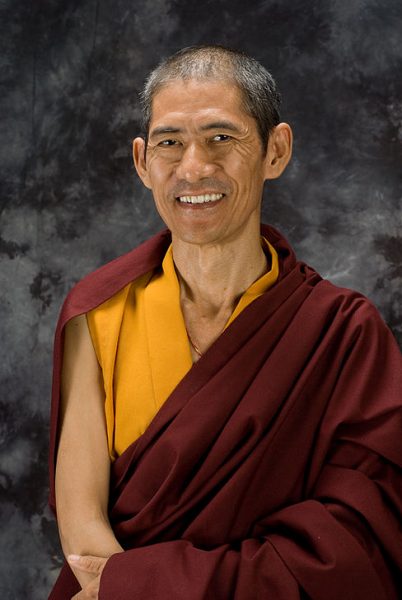 "Enthusiasm"                      Föredrag onsdag 22 augusti
Tid:              19:00 – 21:00
Kostnad:     100 kr
"Patience"                             Helgkurs 25–26 augusti
Helgkursen lördag-söndag kommer att handla om tålamod. Tålamod är en av de sex paramitas (perfektionerna), dvs egenskaper man bör sträva efter på vägen mot upplysning vilket bland annat behandlas i den berömda texten "En boddhisattvas liv" skriven av Shantideva på 700-talet.
Söndagens undervisning avslutas med en tillflyktsceremoni som är ett tillfälle för den som formellt vill bli buddhist genom att ta sin tillflykt till "de tre juvelerna" (Buddha, Dharma och Sangha).
Lördag 25 augusti       10:00 – 17:00
Söndag 26 augusti       10:00 – 17:00
Kostnad: 900 kr (icke medlem 1000 kr)
All undervisning sker på engelska!
Platsen är föreningens lokal på Linnégatan 21.
För anmälan eller mer information kontakta asa@tibetanskbuddhism.se. Det finns också möjlighet att boka tid för ett personligt samtal med Khenpo Pema.
Kursavgiften betalas till Plusgiro 831 87 20-3 (skriv vad det gäller!)
Khenpo 
Pema
 Wangdak föddes 1954 i Purang i västra Tibet och är munk och lärare inom Sakya-traditionen. 1959 flydde han med sin familj och hamnade i ett flyktingläger i Mundgod i södra Indien. Vid sju års ålder blev han munk och efter att ha avslutat sina studier sändes han 1982 av H H Sakya Trizin till New York.
1989 grundade han Vikramasila Foundation som stödjer utbildningsinsatser både i USA på andra håll. Palden Sakya Centers for Tibetan Buddhist studies and Meditation har verksamhet i New York, New Jersey, Vermont, Maine och Ohio. I Mundgod i Indien driver man 
Pema
 Ts'al School för tibetanska barn och i Pokara i Nepal ligger 
Pema
 Ts'al Sakya Monastic Institute. Det finns även en 
Pema
 Ts'al College i New York som bygger på samma principer som skolan i Indien.
Khenpo 
Pema
 är mycket intresserad av tibetansk språkpedagogik och har bland annat skapat en blindskrift för tibetanska känd som Bur Yig.
2007 fick han titeln Khenpo av H H Sakya Trizin och 2009 belönades han som första tibetan med Ellis Island Medal of Honor, en utmärkelse för amerikanska invandrare som bidragit till det amerikanska samhället.
Första gången Khenpo 
Pema
 besökte Sverige var 1991 på inbjudan av Svenska Tibetkommittén. 1992 besökte han återigen Sverige och kom för första gången till Göteborg där han gjorde ett kort besök hos den grupp som träffades hemma hos Jan Bärmark och 1993 kom han tillbaka för ett något längre besök. Året efter, 1994, bildades föreningen för tibetansk buddhism i Göteborg inför att vi på egen hand bjöd in Khenpo 
Pema
 till ett längre besök. Sedan dess har han besökt Göteborg i stort sett varje år, senaste besöket var 2016.