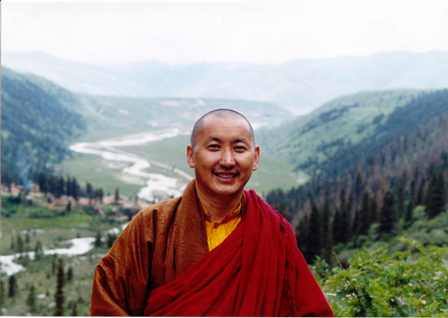 DZOGCHEN RANYAK PATRUL RINPOCHE
24 – 25 SEPTEMBER 2019
THE SUBJECT OF TEACHINGS:
CULTUVATING WISDOM AND COMPASSION IN SUTRA AND TANTRA
DATE AND TIME
TUESDAY 24 September, 15.00 – 17.00 AND 17.30 – 20.00
WEDNESDAY 25 September, 15.00 – 17.00 AND 17.30 – 20.00
REGISTRATION
To register, please email to: katja@tibetanskbuddhism.se
or SMS to: 0727 – 053 010.
Course fee: 750 SEK (850 SEK non-member) for both days. Tuesday only: 450 SEK (550 SEK non-members)
Wednesday only: 450 SEK (550 SEK non-members)
You can send the amount to PG 831 87 20-3 or SWISH to 123 018 21 21. Please indicate your name and the purpose of payment: "Course with Patrul Rinpoche"
The teachings will be given in English at Föreningen för Tibetansk Buddhism I Göteborg at Linnégatan 21 B.
CULTIVATING WISDOM AND COMPASSION IN SUTRA AND TANTRA
The Buddha's teaching is summarised as: "Do no non-virtue whatsoever, practice virtue thoroughly, and completely tame your own mind". So implementing compassion and wisdom must start with one's own immediate situation.
In the Sutra system, wisdom refers to realizing emptiness, and method to the practice of the Six Paramitas, whose basis is compassion. Wisdom and method are distinct and complimentary factors. In Vajrayana, method or "skilful means" as the counterpart of wisdom, relates to the practices of Tantra, Mahamudra or Dzogchen, where wisdom and method are practiced inseparably
In Vajrayana, rather than focusing on the defects of Samsara, one recognises the inherent purity of phenomena. Understanding that mind and its manifestations are inseparable like the sun and its rays, disturbing emotions are self-liberated and transformed into corresponding aspects of wisdom.
ABOUT DZOGCHEN RANYAK PATRUL RINPOCHE
Dzogchen Ranyak Patrul Rinpoche was born in Kham province in Eastern Tibet and has been recognised as a reincarnation of the renowned Dzogchen Master, Dza Patrul Rinpoche by HH Dalai Lama, HH Mindrolling Rinpoche and Dzogchen Rinpoche, among others. Patrul Rinpoche studied at the Dzogchen Shri Singha University, where he graduated with the title Khenpo, equivalent to the PhD in Buddhist Studies in Nyingma school. For more information: http://zpi.patrulrinpoche.net.
We have been fortunate to receive teachings from Patrul Rinpoche for many years since 2001 and we are happy to announce, that Rinpoche is visiting us again this year, despite increasingly full schedule with teachings worldwide. Rinpoche is a contemporary Lama with more than 25 years extensive experience of living in the West and teaching Dharma to Westerners. He is humorous, gentle and humble and he transmits Buddha's profound wisdom in an accessible way to the contemporary Westerners. Rinpoche speaks excellent English.
Warmly welcome!