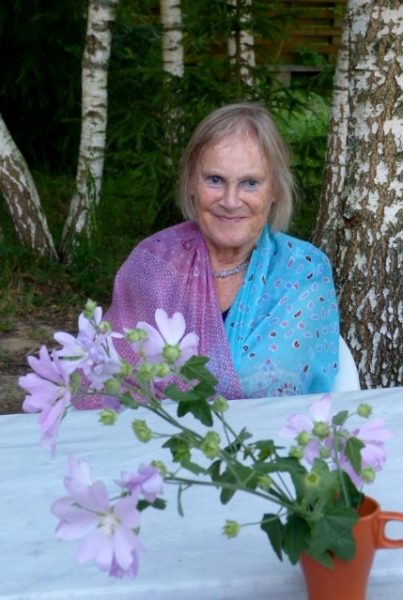 Weekend course with Marian van der Horst, 16 – 18 mars 2018.
Meeting Buddha – introduction to Tibetan Buddhist paintings, thankas.
"It is very prosperous and inspiring to draw at least one Buddha-head in one's life-time to make the connection". This was said by Marian's main teacher in thangka- drawing and painting, Gega Lama, whom she studied 8 years with. It made Marian's life very precious and Gega Lama gave her the permission to teach thanka painting herself.
Drawing is considered to be very necessary, one has to make finally the grids oneself, on top of that structure, according to special measures of the Buddha-figure drawn.  One starts always with a Buddha-head and slowly the body, the clothes and the lotus.
In this introductory week-end one can only get an idea, a feeling mostly of happiness and quietness, because one makes a deep connection with the Buddha image one is drawing.
The iconography in Tibetan Buddhism is very extensive and captivating. Buddha-figures, but also Bodhisattvas and Protectors are divided into a system of 12 categories. We will during this weekend talk about the symbolism of postures and colours of Tibetan Buddhist iconography and we will make some exercises to experience the beauty of special technic in the Karma-gar-dri painting style.
You are very welcome to join. This course is basic and introductory and does not require former experience in drawing and painting. It is therefore suitable for anyone interested in Buddhist drawing and painting. There will be possibility to ask questions and to practice drawing of a Buddha image.
Friday, 16 March 18.30 – 21.00
Saturday, 17 March 10.00 – 17.00
Sunday, 18 March 10.00 – 17.00
Course fee: 750 kr members (850 kr non-members)
Register by mail to katja@tibetanskbuddhism.se or SMS to: 0727 – 053 010.
For more information, please email to katja@tibetanskbuddhism.se
Please bring with you some A4 papers, pencils (2H and HB), plastic triangle to draw the lines on the paper, eventually a small brush (Fe. a 2) and a notebook.
The course will be taught in English at Föreningen för Tibetansk Buddhism i Göteborg (Association for Tibetan Buddhism in Gothenburg).
http://tibetanskbuddhism.se