20-22 november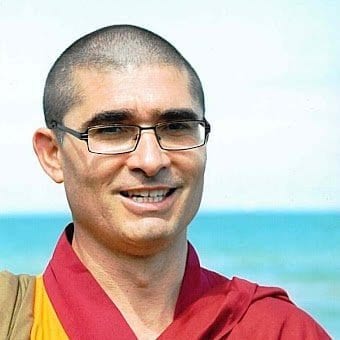 The Eight Verses of Mind Training
Helgkurs med Venerable Michael Yeshe
When we take a few moments from our busy lives to reflect on the plight of other fellow living beings, who are suffering to a much greater extent, it help us to put our own problems and difficult situations into perspective. Thus generating compassion has an immediate benefit of calming our own mind. The great Tibetan master Langri Tangpa composed a very concise text known as The Eight Verses of Training the Mind, which present very effective methods for developing compassion. We will explore these eight verses, based on a commentary by H.H. the Dalai Lama. The sessions will begin with few minutes of silent meditation, followed by the presentation and discussions. 
---
Venerable Michael föddes i London 1966 till en grekisk far och en belgisk mor. Han växte upp på  Kopan-klostret i Nepal och har varit munk i den tibetanska buddhistiska traditionen sedan han var 7 år. Vid 13 års ålder började han studera vid Sera Jey Monastic University i södra Indien och där han tillbringade de kommande 18 åren med att studera buddhistisk filosofi. Sedan 1996 har Venerable Michael bjudits in till buddhistcenter i Amerika, Singapore, Malaysia och Holland som översättare och lärare. Under 11 år bodde han på Tara-institutet i Melbourne där han tjänade som översättare för Venerable Geshe Doga.
DATUM
Fredag 20 nov, 18:30–21:00 (introduktion)
Lördag 21 nov, 10:00–17:00 (lunch 13:00–14:30)
Söndag 22 nov, 10:00–16:00 (lunch 13:00–14:30)
PRIS
Delta på plats: 800:- för medlem, 900:- för ej medlem
Delta online via Zoom: 600:- för medlem, 700:- för ej medlem
Anmälan till: Maria
Betala till: Föreningen för tibetansk buddhism i Göteborg, plusgiro 831 87 20-3
Det kommer att vara ett begränsat antal platser tillgängliga i lokalen, så:
• Viktigt med anmälan i tid!
• Ingen Drop-in på fredagen.
• Ingen betalning innan du fått mail med bekräftelse om att plats finns.
Mycket välkomna!